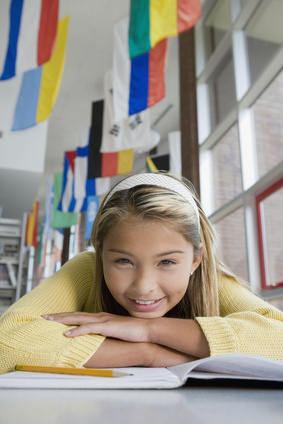 LinguaLinks
makes learning both fun and convenient for you and your child. We hold our classes in your child's school either before or after the school day. Through our program, children will learn to communicate effectively in a foreign language. LinguaLinks is not about simply learning numbers, colors and body parts. Over the course of the units, students will acquire a second language through complete immersion in the target language. Each 10 week unit is based on a theme in which the students will learn to communicate in real life scenarios. Every unit will culminate in a small project to demonstrate to the child how much he or she has learned.
The first unit prepares students to take a trip to a foreign country and introduces them to the concepts of personal identification, weather, packing a suitcase, tourist activities and food. Subsequent units will focus on themes of interest to children including family, school life, animals and sports/hobbies all set in the context of visiting a foreign country. With class sizes of 8-12 kids, each student will have ample opportunity to practice. After each unit, students will be able to engage in brief role-play skits or make presentations practicing what they have learned.
Most importantly, children will have fun and be actively engaged in learning with a series of games, songs and activities that they can continue outside the classroom with our At Home resources.
Tuition Cost:
Tuition varies by district due to the difference in rental fees. Please see the flyer that comes home with your child for more information or contact us.