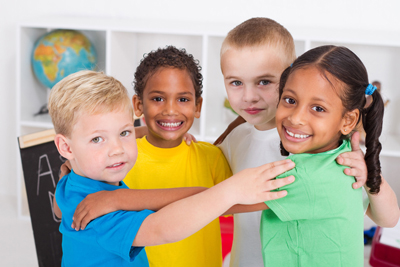 Our preschool program is a wonderful 45 minute mixture of music, movement, games and crafts. Children ages 4-6 will have fun learning the basics of a language with the help of characters that they play with at home. Familiar characters help the children engage in the lesson and retain what they learned as they play with those same friends at home. Clifford the Big Red Dog and his friends are perfect for teaching colors through games and songs! We add in other characters that have trademark colors and we've got the whole rainbow covered! We bring culture into the curriculum through crafts or by using props such as a sombrero or beret that the characters wear. Kids love to see their favorite friends in a different light!
Some children don't like the spotlight and are too shy to talk in front of others. That's okay! Each class ends with a 10 minute cultural craft or coloring activity to reinforce the lesson's objective while the teacher moves around and engages each child individually in the target language to ensure comprehension.

Finally, parents will have access to short video recaps and audio slides to revisit each lesson during the week. Both are downloadable from our website to your computer so there is no need to worry about scratching or losing a CD. Songs and short videos are internet based and even accessible through your smart phone! The combination of auditory and visual review really helps the children retain what they learned and be ready for more.
We've suspended our preschool program for the time being as we develop our online program. Follow development of our program through our blog!