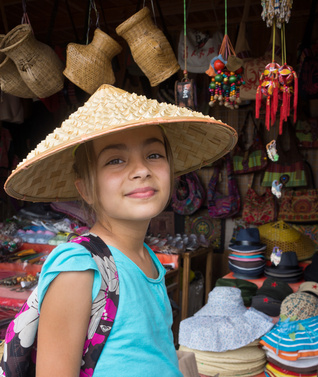 Kids enrolling in our K-2 Mandarin class will be immersed in the sounds and culture of China.  Children will begin speaking in basic but full sentences the very first day!  The first unit's theme is Family. Students will learn to express love for different family members, ask classmates about their families, introduce their family to others and read the Chinese characters related to the unit's vocabulary through a series of games and play activities. We employ a number of toys and Chinese cultural songs to keep children engaged and help them master this difficult language all while having fun.
Kids in our grades 3-6 Mandarin program will have fun learning the basic conversational skills needed when making new friends. They'll have the chance to engage in role play activities and learn all they need to know through games, songs, and other fun activities. They'll learn to read and write Chinese characters and become familiar with Chinese culture as well. The class is taught by a native Chinese teacher who happens to be pursuing her PhD in education locally!
We provide review materials in hardcopy as well as via the internet.  Through the LinguaLinks website, children and their parents will be able to see their teacher review the lesson again through a video posted on YouTube as well as short videos reviewing the vocabulary, characters and sentences of each lesson.  Learning doesn't stop between classes!
Tuition Cost:
Tuition varies between districts due to the differences in rental fees. Please see the flyer that comes home with your child for more information or contact us.